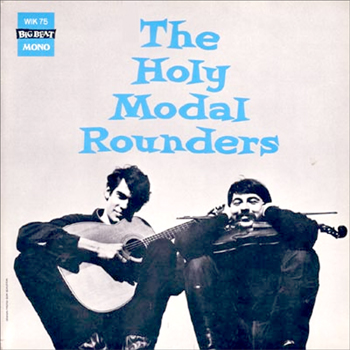 It is an honor to share some words on boyhowdy's page, as I am a frequent fan of his writing, and most especially, the subject at hand. When composers write a song, they undoubtedly want others to sing it, play it, reproduce it either in their mind, living room, or on record. In this sense, I couldn't agree more with the headline up above, "In the folk tradition, music belongs to the community."

The Holy Modal Rounders reinvented songs in an incredibly unique way. Their approach was as follows: "hear song, forget song, try to remember song while adding your personal wrinkles, bingo!" Material was taken almost exclusively from Harry Smith's American Anthology of Folk Music, a 1960s anthology that played a large part in the folk revival, and playfully distorted through a thick layer of irreverence and heavy drugs. In their version of Hesitation Blues, Stampfel made sure to alter a verse to "pyscho-delic shoes" (rather than "hesitation shoes"), marking the first recording with the word "psychedelic."

Though cacophonous to the uninitiated, there is something joyous in their haphazard sound. The DIY harmonies, lazy fiddle, and fingerpicked guitar magically turn in to something beautiful. Unsurprisingly, Rounder originals hold up as well as any of the warped folk numbers they chose to cover. And all their albums have my wholehearted recommendation (especially a very special record featuring the Unholy Modal Rounders, Have Moicy).

This past autumn, I went to see the screening of Bound To Lose, a new documentary about the Rounders, where Peter Stampfel (fiddle and high harmony) introduced the film. During his unforgettably eccentric speech, he unhesitatingly claimed that the Rounders had spawned the genre of freak folk. His word is good enough for me, though I can't think of any competition otherwise. See if you can hear it yourself.




You can really hear the influence of the Holy Modal Rounders in Today's Bonus Coversongs:



Brendan blogs about lost gems and overlooked classics in the genres of Garage, Country, Prog Rock, Psych Folk, and other fringe musical forms at The Rising Storm. He is also a regular contributor to blog collaborative Star Maker Machine.